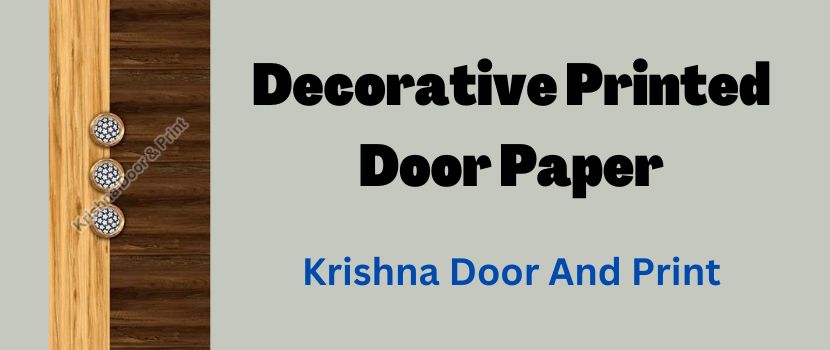 Decorative Printed Door Paper is easily available in the market and assures to give your door a new look.
Do you wish to give your home a new look without spending much? Looking for special ways to decorate your doors? If yes, we at Printed Door Paper are the right choice for you. Now, there is no need to spend a big amount to reinvent your home. Now, you can easily give your rooms to life. Don't get amazed if you get the creative bug and find yourself finding new projects.
Changed in a snap
Printed door paper is even an affordable choice as per the price, particularly Decorative Printed Door Paper. It is one of the best ways to decorate your door and give them an amazing new look.
Look at the prime benefits associated with the printed paper for the door
• Now, it is easy to get the best quality, cost-effective, and attractively designed decorative printed door paper without any difficulty. The manufacturer of the product creates these attractive decorative pieces of paper simply in rectangular shapes with a special glossy finish.
• Since the products are made of good quality paper; they are simply friendly for our environment. The decoration door papers are helpful to give the old and boring looking entrance simple wonderful. It is simple to stick and useful to carry. As a renowned supplier of a broader range of decorative items, the suppliers supply the product all over the world.
• There is no need to look here and there for the best products as online stores are available to display the best products.
• Size: as far as the size of the product is concerned, it is available in the size 39 x 84. Moreover, the sheets are available in rectangular shapes.
• The product is available in multi-color. So, you can easily choose the best one as per your requirements. The thickness of the product is about 1 mm.
Find a good manufacturer and supplier
If you are interested in buying decorative printed door paper in bulk quality, you can directly talk to the manufacturers and suppliers available in the market. The printing paper market is now flooded with thousands of options; however, to make the right choice you should look into the most wished look of your product with the printing paper features. Getting familiar with the properties of each printing paper and matching them with your product requirements can be a somewhat challenging task.
After a deep hunt of the present market, you will find the market has a special collection of Decorative Door Paper prints. This attractive laminated paper is widely used in the exteriors and interiors of hotels, homes, and offices. The specially laminated paper is collected from reliable vendors of the market under the directions of the veteran procuring suppliers. Additionally, this laminated paper is available in different unique attractive colors and prints. Shopping online and placing your order is just perfect for anyone.