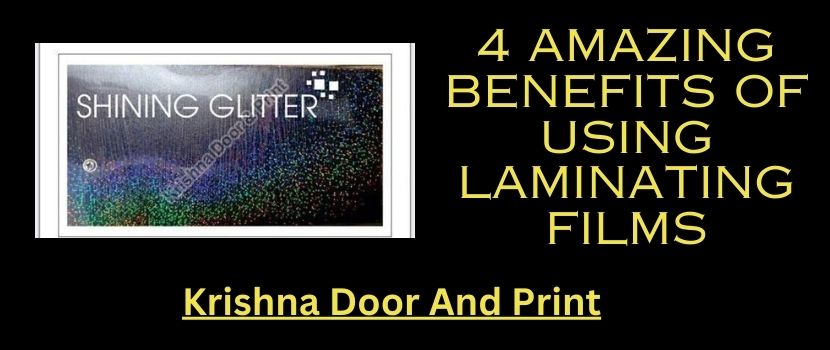 Whether you are familiar with or new to lamination, you can always find new uses for laminating films. Laminating film is created with a base film, such as PVC or polyester, and is then coated with an adhesive. Adhesives can be activated either by high-pressure or thermal heat. In the paper and packaging industries, laminating film is applied to surfaces such as cardboard, aluminium foil, paper, and biofilm. The purpose of laminating film is to provide food and non-food packaging with barrier properties, haptic properties, and appealing appearance, which contribute to the feel and smoothness of a surface.
Laminating films and applications exist in several types. Each of them is ideal for specific processes. Nylon PET and BOPP laminating film applications are the most common nowadays. Here are a few significant benefits of using laminating films:-
• Provide Excellent Protection:
As we know, many materials may not be able to hold up in the long term and may degrade over time. When it comes to various paper documents, be they important business documents or academic certificates, there is a need for special care and a certain amount of protection. Using laminating film, you can protect all your important documents. As laminating film is made up of certain types of plastic, it can protect the documents from wear and tear. It can also protect your documents from UV rays, water damage, etc.
• Offer Better Durability:
The materials protected with laminating films will be more durable and will last for a longer duration. Laminating film can withstand accidental damage and offer better durability to the materials they are coated with. Laminating films provide a protective layer over the carefully designed pieces to ensure each detail remains sharp and retains its complete colour clarity regardless of how many hands it passes through.
The laminating film keeps dirt, grease, and oil away from the substrate and finishes. These properties make laminating film perfect for brochures, cards, and menus. The laminating film prevents moisture from dissolving or warping the substrate. Laminating film can also make these materials clean and maintain easily. This will make these materials look better for a long duration. So, using laminating films, you can get more out of your materials.
• Provide Improved Look:
You can enhance the look of your materials by applying laminating films on them. By using glossy laminating film, you can improve the contrast and colour of a print while also making it clear and easier to read. You can enhance the look of your outdoor signage with laminating film. The laminating film can add a brilliant sheen to your signage, making it more appealing. Additionally, the improved durability that the laminating film offers can make the material look better for longer, allowing it to have the desired effect for as long as possible.
• Easy To Use:
Laminating Film manufacturers offer a wide range of laminating films with an easy application process. Laminating film can be applied with ease. It is easier to apply to the flat surfaces.
Laminating film manufacturers offer a wide variety of affordable films in different sizes, allowing you to choose the ideal one as per your needs conveniently.